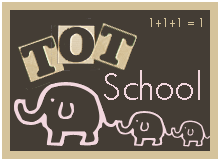 Jordan was 34 months in these pics.
These are a few of the activities we did last year during Tot School.
We have a magnetic alphabet set that we got through Rainbow Resource when my oldest was in kindergarten. When I first got it, I had to punch out all the letters & so I ended up with all these interesting little shapes leftover. I kept them, not knowing yet what to do with them... until now. Jordan had fun sticking them onto the magnetic board and also sorting them into cups.
He also liked to sort his army men into cups. He calls them "my guys".
Then his big brother came along & wanted to play too. This is the scene I found set up in the living room. lol
It's the rainbow guys against the camouflaged guys.
Another thing he enjoyed was lacing with different types of buttons and beads. It was good practice for him.
Also linking up with: